Romantic B&B Antiche Armonie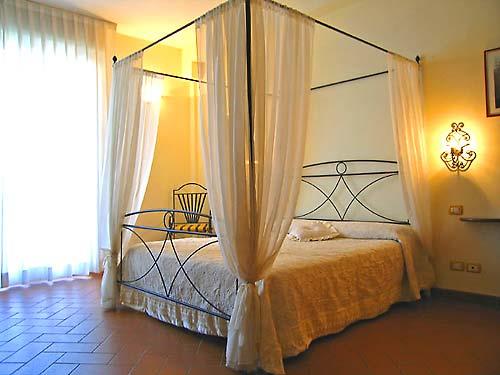 Description
Romantic Bed and Breakfast wants to satisfy all your needs during your stay. By choosing Florence as your destination you decide to visit places where the love for beauty and harmony reigns everywhere. When you stroll around in the centre of Florence you find yourself in a more human dimension with perfect architectonical shapes.
Florence is still a small town. Thus our Bed & Breakfast "Antiche Armonie" searches the beauty.
Our guests will be able to enjoy this marvellous city and in our comfortable Bed & Breakfast we have tried to create a cosy and pleasant environment where to stay in complete relax.
Our big and light rooms are furnished in a typical Florentine style and are equipped with bathroom, colour TV, air-conditioning and heating.

Services


• Rooms are equipped with bathroom
• Colour TV
• Air conditioning and heating

Attractions


• Museums and monuments:
• Duomo
• Piazza Signoria
• Ponte Vecchio
• Galleria degli Uffizi

---

Activities




• Varius

How to reach it


By Air
Taxi or bus (Ataf and Sita) from the airport Vespucci.
By Train
At the Central Railway Station Santa Maria Novella you take
the exit at your right hand-side and then take right again
(Via Alamanni). Cross the street Viale Fratelli Rosselli and
walk straight on ( Via Guido Monaco). At the end of the
street you take right and walk a few metres (Viale Belfiore).
Our Bed & Breakfast is located at nr 58, Viale Belfiore.
By Car
* Highway A1 exit Firenze Nord
Follow the signs indicating the centre of Florence, "centro"
which will lead you to Viale Guidoni. At the end of the street
Viale Guidoni you have Via Forlanini on your right. You run it
until it ends and take left in Viale Redi after the roundabout.
At the end of the street you will find Viale Belfiore. The
traffic direction obliges you to take Via Guido Monaco right in
front of you . Take it and then left again after a few metres
in Via Cittadella. At the end of the street you will find Viale
Belfiore again and nr 58 where our Bed & Breakfast in
located.
* Highway A1 exit Firenze Sud
After the higway turn-off you take left along the river Arno
and run it until you reach the round ring-road "viali di
circonvallazione". Run Viale Amendola (Piazza Beccaria),
Viale Gramsci (Piazza Donatello), Viale Matteotti (Piazza
della Libert�), Vilae Lavagnini (Fortezza da Basso). Take left
towards Viale Strozzi which will lead you under the railway
bridge. After the bridge you are in Viale Belfiore and after a
few metres on your left hand-side at nr 58 you will find our
Bed & Breakfast.


Prezzi

Low season

€

0

Mean season

€

0

Hig season

€

0

Look the lastminutes


No Last Minute !
Add to your wishes list


Crea una lista delle tue strutture preferite

INFO
Check rooms availability
Pictures Gallery
Click to enlarge